Recommended Products
Here are some vegan products we personally love and come highly recommended by readers like you:
Recipes
Thinking about what you'll eat as a vegan? Try out our menu suggestion. To learn more about the recipe, simply click on the link.
For more vegan recipes, search among thousands on Recipe.kitchen
Vegan Pancakesfrom Food.com
Nasu Dengakufrom Tastebook
Spicy Chili Bean Soupfrom Babble
Chocolate Orange Cakefrom CookThink
Cookbooks
Even more cookbooks available atRecipe.kitchen
Desserts
Food Blogs
About the Vegan Diet
A vegan diet is one that consists of only plant-derived foods. Vegans don't use or consume any animals or animal products including flesh (land or sea animals), milk, eggs, or honey.
Eating vegan doesn't require breaking the bank or moving to a big city. The most nutritious and inexpensive vegan foods which can be found in any supermarket, are fresh produce, grains, legumes and nuts/seeds. These should make up the bulk of the diet for optimum health. Vegan processed foods in the form of soy hot dogs, vegan  "cheeses," desserts, etc are best eaten only on occasion.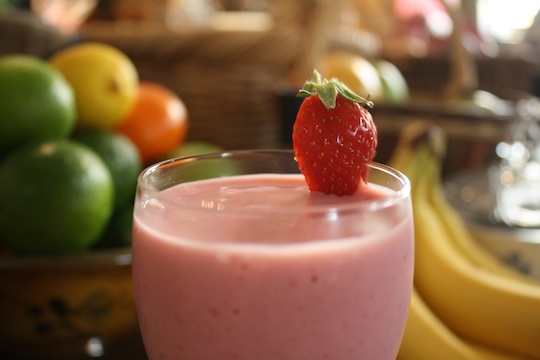 Isn't vegan food boring?
A popular myth is that vegans subsist only on soybeans and salad. In reality, vegans eat everything non-vegans eat, but without the animal products and likely with more variety from special foods.
Common vegan dishes include stir fry, pasta, rice and beans, chana masala, cucumber-avocado sushi, pad thai, quinoa, pizza, pancakes, french toast, waffles, veggie burgers, chili, soups, tacos, burritos, casseroles, stew, sandwiches, cookies, non-dairy ice-cream, cakes, pies, etc.
Nutrition & Health
Nutritional deficiencies are a concern for everyone. While vegans statistically enjoy longer life spans than the average human being, we are not exempt from this reality. First and foremost, you should ensure you are receiving enough Vitamin B-12, Omega-3, and Vitamin D. See below for more detailed information on vegan nutrition.
Protein: Because animal-based foods are high in protein, it's a common misconception that vegans don't get enough of it. In fact, the real problem is nonvegans getting too much protein. Vegans can get all the protein they need from lentils, tempeh, tofu, beans, nuts, seeds, and even vegetables.
We highly recommend the book, Becoming Vegan by Brenda Davis and Vesanto Melina. M.S., R.D for more detailed information pertaining to ones age and individual needs. They provide sample menu plans and nutrition recommendations for children, teenagers, pregnancy, and athletes as well as a wealth of information on proper nutrition. Also, be sure to check out The Boston Vegan Association's Nutritional Pamphlet
Calcium: (Approximately 1000 milligrams per day, 1200 milligrams for women over 51 and men over 70.) Leafy green vegetables-kale, collards, broccoli, okra, figs, oranges, almonds, pistachio nuts, hazelnuts, flaxseed, sunflower seeds, sesame seeds, soybeans, chickpeas, navy beans, pinto beans, kidney beans, lentils, tempeh, tofu*, fortified non-dairy yogurt, fortified non-dairy milks, fortified soy products, fortified breakfast cereals, and fortified orange juice. Note: Spinach, beet greens, and chard are healthy foods but not good sources of calcium.
When purchasing tofu, look for the calcium-set tofu with "calcium sulphate" in the ingredients.
Iron: Chickpeas (hummus), lentils, navy beans, pinto beans, kidney beans, soybeans, quinoa, tofu, raisins, goji berries, fortified veggie burgers and other soy products, pumpkin seeds, cashews, figs, sunflower seeds, sesame tahini, prunes, whole wheat, parsley, and pine nuts.
Tips
Vitamin C
Vitamin-C rich foods help with iron absorption. Try eating these foods in the same meal. Use cast-iron cookware. If your iron status is low, avoid consuming foods high in zinc at the same meal.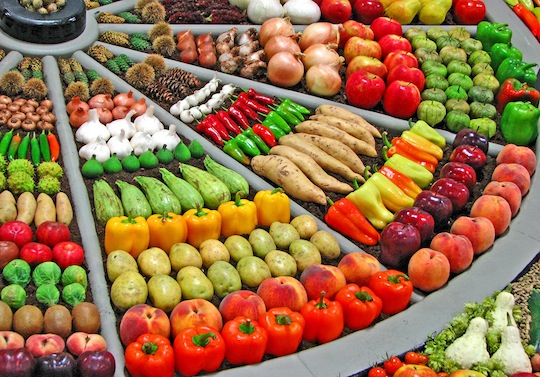 B12
(2000 micrograms once a week or 10-100 micrograms a day.) Produced by bacteria and found in soil, water, etc, it is necessary for vegans to supplement their diet since most vegetables are cleaned very well. Vegans supplement their diets with B12 by eating nutritional yeast or fortified foods. Most non-dairy milks and cereals are fortified with B12. Consume at least three servings of vitamin B12-fortified food per day (each supplying at least 20% of the Daily Value on the label), Or, vegan B12 tablets. (One 2000 mcg tablet (ideally chewed or dissolved under your tongue) once a week; or at least 10-100 mcg once a day.)
Omega-3
Two tablespoons of ground flax seeds every day or two teaspoons daily of flax seed oil. And/or, an omega 3 DHA supplement in the form of algae.
According to Michael Greger, MD, diabetics and pregnant or breast-feeding women should take 300 mg of DHA every day
Vitamin D
Light skin: about 10-15 minutes of sunshine. Dark skin: about 30 minutes of sunshine. or 1000-2000 iu daily depending on the time of year, etc.
Note: Vitamin D3 found in many fortified orange juices comes from the wool of sheep and is not vegan.
*Important: If you have any health problems-including obesity, or are taking medication (cholesterol medication, insulin, etc) you should inform your doctor of your plans to change your diet before making any changes. A switch to a plant based diet can alter your need for medication.
Disclaimer: The information in this kit is intended as a helpful overview but cannot cover all vegan nutrition topics. To make sure that your diet is meeting all the nutrients that your body and mind need, please consult a nutrition professional with expertise in vegan diets.
Special Foods
Spend some time with a vegan and you may be surprised to learn a vegan's diet is not just the standard diet minus animal products. There are several kinds of foods which have gained recognition as vegan staples.
Ingredients
The number of nonvegan ingredients found in food and products is too numerous to mention here, but we've included some of the most common below.
Common Nonvegan Ingredients
Casein is a protein from milk. Surprisingly, this is often found in soy cheeses!
Also known as Crimson Lake, Cochineal, Natural Red 4, C.I. 75470, or E120, carmine is made from crushed cochineal insects with bright red shells. Often used as a red food coloring.
Beeswax, as the name implies comes from honeybees. Why isn't honey vegan?
Gelatin is a subtance produced from the collagen found in animal bones and hoofs. This is often used for marshmallows, Jello®, and as a preservative.
Some alcohols use isinglass, egg albumen, or bone char to filter wines, beers, and liquors.
To find out if your alcohol is vegan, look up the company on Barnivore.com You can also opt for many German beers and unfiltered wines.
Lactose is a protein from milk. However, lactic acid is almost always vegan.
Lanolin, also known as wool fat, comes from the wool of sheep.
Often found in fortified orange juice, vitamin D3 comes from Lanolin, a sheep product. D2, however, is vegan.
Whey is a milk protein often used as a protein boost in some commercial foods.
Replacements
Here are some quick tips for using vegan ingredients to replace the animal products in your favorite recipes
Eggs
Apple Sauce
Applesauce will give off a gas while being cooked, making your baked goods fluffy. It's also doesn't require adding as much liquid as powdered replacers. 1/4 cup applesauce = 1 egg
Ground Flax Seed
When ground to a powder and liquified with water, ground flax seed creates a gooey texture great for binding. It's also full of protein and omega-3s. 1 tbsp ground flax + 3 tbsp water = 1 egg.
Banana
Like applesauce, bananas are naturally sweet. They also have strong binding properties when used baked goods. <strong>1/2 banana = 1 egg</strong>
Baking soda/powder
When you really need your dish fluffy without extra flavor, simple baking soda or baking powder does wonders. 1 tsp baking powder + 1 1/2 tbs water + 1 1/2 tbs oil or 1 tbs vinegar + 1 tsp baking soda = 1 egg.
Milk
Soy/Oat/Hemp/Almond/etc. milk
By now, you've probably heard of the increasingly popular nut- and bean-derived milk products making their way into grocery stores. While soymilk is probably the most prevalent, some prefer rice milk for its naturally light and sweet flavor and almond milk for a boost of Vitamin E, monounsaturated fats, dietary fiber, and B vitamins.
Vegetable Oil
The only difference between a fat and an oil is that a fat is a solid at room temperature. Often when milk is used in foods like mashed potatoes, it's the fat that makes it creamy. Substituting this for vegetable or olive oil is equally as satisfying and much healthier.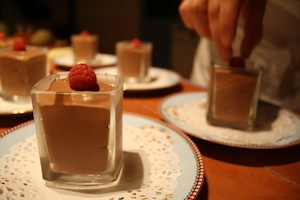 Restaurants Near You
Even if you don't live in a big city with fully vegan restaurants, there is a surprisingly large number of vegan options for eating out almost anywhere in the world. Check out two of the most popular resources below to find options near you. Please be advised, while these can be excellent resources for finding vegan options, the unfortunately also label options which are devoid of flesh, but still very nonvegan.
With a fresh design and tons of listings all over the world, VFIE is our number one recommendation for finding vegan and vegan-friendly establishments.
HappyCow is one of the oldest resources for finding vegan restaurants near you.
VegGuide is similar to HappyCow, but with a more streamlined, minimalist interface making it fast and easy to search.
Vegan Stores
Here are a few places to get vegan products delivered to you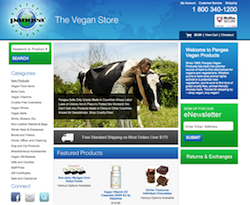 VE, as the name implies, is all vegan with a wide selection of foods for humans and nonhumans as well as clothing and other specialty items.
While not an exclusively vegan storefront, Amazon actually has a large directory of vegan foods available in bulk in their grocery department.
Pangea, also known as TheVeganStore.com is an all vegan storefront much like Vegan Essentials.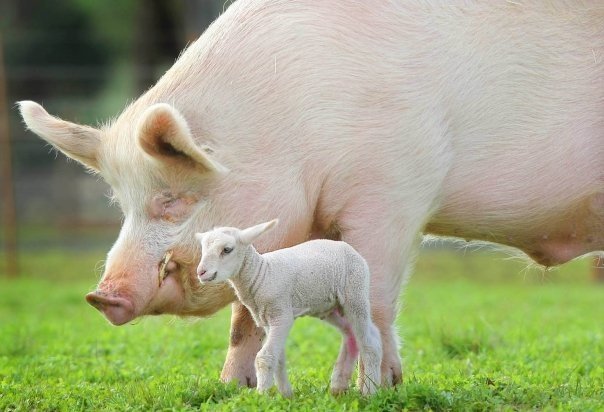 Veganism is not just a diet, but a moral obligation if we wish to strike at the roots of speciesism in all its forms. Veganism is a moral imperative if we wish to bring an end to an injustice to all animals. Veganism is the very least that we owe to the thinking, feeling creatures with whom we share the Earth.

K. L. Greendale